In this paper , a library of 17 organoruthenium compounds was screened for inhibitory activity against cholinesterases and glutathione-S-transferases of human and animal origins. The cover feature picture (see below) shows an organoruthenium-pyrithione complex which inhibits cholinesterases and glutathione-S-transferases at pharmaceutically relevant concentrations while we observed no undesirable physiological responses on the neuromuscular system as well as no toxicity against non-transformed cells. Combining these results with our previous study (Kljun et al.  Dalton Trans. 2016, 45, 11791-11800) which has shown the ability of this compound to inhibit enzymes involved in hormone-dependant breast cancer as well as high toxicity on MCF-7 breast cancer cell line it is supposed that the cover page compound can be an interesting candidate as a multi-target drug for the treatment of cancer or Alzheimer's disease. In this multidisciplinary study we have joined the forces with our colleagues from different faculties of the University of Ljubljana (Biotechnical Faculty, Faculty of Medicine, Veterinary Faculty) and a student from University of Rijeka was also involved.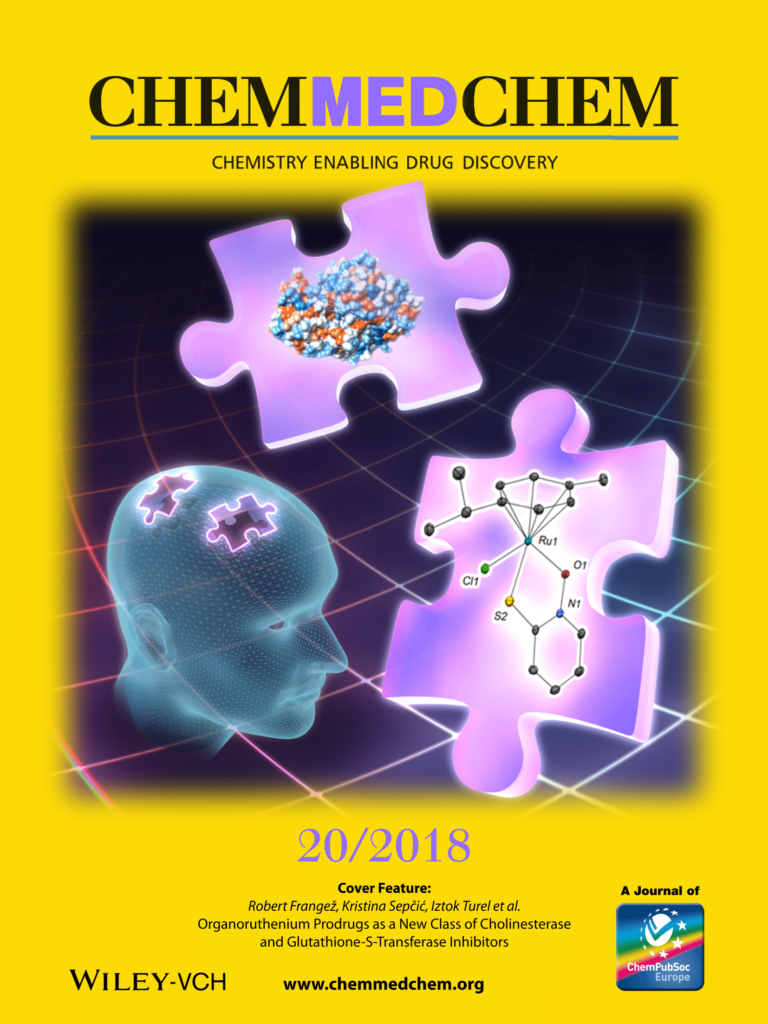 Cover page of paper:
S. Ristovski, M. Uzelac, J. Kljun, T. Lipec, M. Uršič, Š. Zemljič Jokhadar, M. C. Žužek, T. Trobec, R. Frangež, K. Sepcic, I. Turel, Organoruthenium prodrugs as a new class of cholinesterase and glutathione-S-transferase inhibitors, ChemMedChem, 13, 2166-2176 (2018).
https://onlinelibrary.wiley.com/toc/18607187/2018/13/20